Product Specification (PDF File)
GeoCensusIQ® provides the user with an easy-to-use means to link demographic data from the US Bureau of the Census with various levels of geography also derived from the US Bureau of the Census. In as few as four simple steps one can create intelligent maps of population attributes to display thematically.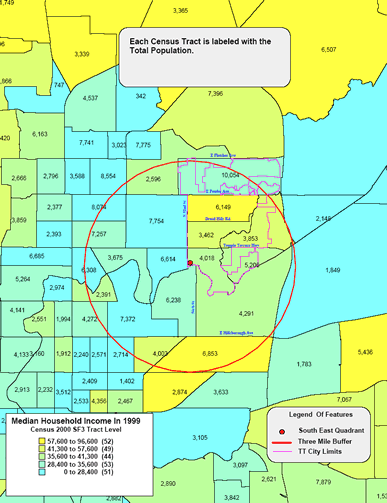 The 2000 Decennial Enumeration is the most comprehensive U.S. population count since the count was first taken in 1790. 3.9 million people counted when the census counted the 13 original states, the districts of Maine, Vermont, Kentucky, and the Southwest Territory later to become Tennessee. Six questions were asked: name of head of family, number of persons in household, number of persons in household of each of the following types - free white males 16 years and over, free white males under 16, free white females, all other free persons (by sex and color), and slaves.
Since 1790, the U.S. Bureau of the Census has undertaken a more sophisticated and broader agenda to include the following seven questions for each household: name, sex, age, relationship, Hispanic origin, race, and housing owned or rented. Additionally, approximately 17% of households received the long form which included variables on ancestry, income, mortgage status, and other housing and population indicators.
The Bureau spent hundreds of millions of dollars to gather this data, the challenge is in the ease-of-use to convert the data to information upon which informed decisions can be made. GeoCensusIQ® provides the means and operates with the MapInfo Professional environment to help you create maps and charts that communicate with concise clarity.
GeoCensusIQ® works with the P. L. 94-171, Summary File 1 and Summary File 3 data sets. Each of these three data sets along with the respective technical literature is included for the geography of your choice.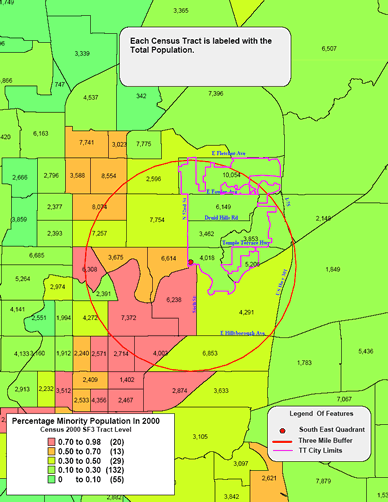 GeoCensusIQ® is an indispensable resource for projects ranging from redistricting to site location to target marketing.