Product Specification (PDF File)
Interactive Maps on the Web
Now that you have built your maps, publish them to the web with data.
GeoElections WebTools© from International Computer Works, Inc. (ICW) provides you with the power to offer your voters the ability to access elections data through interactive maps on the World Wide Web.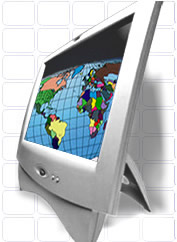 ICW provides the tools and services to leverage the investment you have already made in GIS data. Now you can provide interactive maps as a means to access elections information. The ability to publish your data to the web using ICW hosting services linked to your web site brings a new dimension of public access to both current and next generation voters.
The economy of web publishing can be appreciated with the single example of managing updates and edits to maps. Paper maps become outdated when changes to geopolitical boundaries such as precincts or annexations occur. With the introduction of new roads or entire subdivisions paper maps need reprinting and redistribution. When you publish your maps to the web, your community can print to paper from the convenience of their own home or office.
Designed for ease-of-use and strategically positioned to combine the wealth of your data with the need to educate current and future voters, your school districts will bring you into their classrooms. Election information comes alive with this rich graphical presentation to capture the spirit and encourage an action to participate as an informed elector like never before.
GeoElections WebTools© provides three pages to which you can publish your maps and elections data: the County Page, the Precinct Page and the Household Page. Interactive map layers can include the following items but are by no means limited to this list:
• Precincts
• School Board Districts
• County Commission Districts
• City Council Districts
• Fire Districts
• Water Districts
• Special Taxing Districts
• State House or Assembly Districts
• State Senate Districts
• Federal Congressional Districts
To access information about related products go to our links for TIGERUS©, GeoAuthor® or GeoElections©. Additionally, in the summer of 2003 ICW staff conducted a survey of the Social Studies Curriculum Directors for the 67 counties in the State of Florida. This survey and results can be found in the Success Stories section of our web site. The article is titled, GeoElections WebTools Survey of Florida Directors of Curriculum for Social Studies K-12
View the additional details about GeoElections WebTools© published in our Product Specification (PDF File) or call for more information or demonstration using your jurisdiction data.

Crossing the Digital Divide
The entire community can connect and collaborate in the process of becoming informed voters.
"...if the children are untaught, their ignorance and vices will in future cost us much dearer in their consequences than it would have done in their correction by good education."

Thomas Jefferson, 1818 U.S. President