Product Specification (PDF File)
Exciting news for administrators in school bus routing.
GeoBus© provides the user with an easy-to-use interface that automates and streamlines the data creation process for modeling the variations in school bus routing environments unique to each community. GeoBus© is a component of an integrated set of applications for addressing the numerous business problems of administering K through 12 allowing complimentary departments the ability to pass information from one process to the next with the efficiencies of a well coordinated team.
TIGERUS© provides the tools for maintaining the map base. GeoSchools© offers valuable featues to assist the planner in creating attendance boundaries. GeoChoice© supports zoned or open choice enrollment.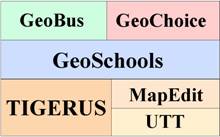 The integration of data including roads, students, building locations, zones, and districts are pulled together in GeoBus© to create a model of the community appropriate for routing. The road network from the TIGERUS© project provides the database that is enhanced with the transportation attributes used to determine the best route.
GeoSchools© provides walk zones to assist in determining ridership, it is also a source of information such as campus locations and attendance boundaries. During the work with GeoSchools© the administrator uses the geocoding utility included with GeoSchools© to place all of the students on the map.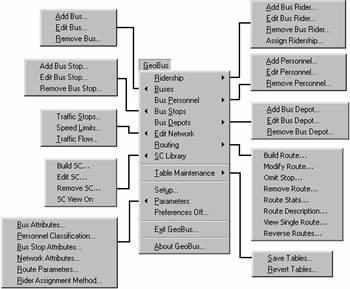 GeoBus© was developed as an application working within the MapInfo Professional environment. Selected from the menu bar, a pull down menu is displayed which contains the editing tools and table management functions included with GeoBus© all of which are displayed to illustrate the extensive functionality contained in GeoBus©.
GeoBus© is an intelligent rules based routing module that includes the ability to integrate data from diverse sources to create a model of the operating environment unique to a given district. Tables of school locations, walk zones, impassible zones, transportation zones, and attendance zones can be brought together for the specific purpose of defining a your community. Through the use of theses zone tables it is possible for GeoBus© to be used by multiple routers at one time.
TIGERUS© and GeoSchools© provide the administration with the foundation tools upon which the school district management can facilitate the implementation of school choice with GeoChoice© and school bus routing with GeoBus©.